I always enjoy "talking shop" when it comes to baseball.  Chatting with coaches, ballplayers, and even former teammates is always fun – especially when we get into discussions about the finer points of the game.  However, most of my conversations these days focus on training ballplayers for the demands of the game – how to get stronger, prepare better, run faster, throw harder, etc.
This past Sunday, I joined Josh Boggs of Pitching 101 to discuss one part of training for baseball that is often overlooked by many young ballplayers: off-season throwing programs.
I want to thank Josh for having me on the podcast.  I really enjoyed our conversation, and I hope that baseball coaches and players can benefit from the information we discussed.  Here's a list of some of the items we covered:
Why there is no perfect throwing program.
Separating your entire year into three distinct seasons.
Should you throw year-round?
What time of year your off-season throwing program should begin.
Why being involved in strength & conditioning program can enhance your throwing program.
Why you need to find a routine that works best for you.
How to use your off-season time wisely when you are not throwing.
What should be included in your throwing program. (HINT: There's more to it than just picking up the ball and throwing.)
The approach you should take in the fall and winter as you prepare for the spring season.
Why "listening" to your arm is so important.
The difference between hurt and sore.
How to properly structure long toss and how often to include long toss in your throwing program.
How to incorporate bullpen sessions into your throwing program.
Using your long toss to develop your change-up.
How to use long toss during the season.
How to approach your summer season to really maximize your development.
What to do if you are stuck indoors because of poor weather.
Again, thanks to Josh at Pitching 101.  He runs a fantastic podcast for pitchers and coaches, and you can always join in the conversation on Twitter by using the hashtag #PitchingChat.
Just click the play button below to listen to the entire podcast, and please leave a comment below to join in the discussion and let me know your thoughts on throwing programs and long toss.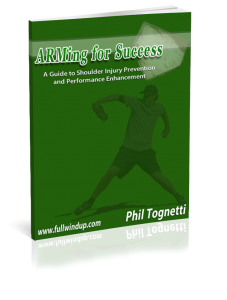 ARMing for Success
If you want more information on how to set up and approach a throwing program check out ARMing for Success where you will learn a complete dynamic warm-up, 7 essential band exercises for the throwing shoulder, and how to set up your long toss program.  You need a game plan when you hit the field, and ARMing for Success will give you the guidance you need.  Check it out now!
Looking for a Baseball Strength Training Program?
Receive a FREE training program and template for one month of off-season training. Just enter your name & email & click "Get It Now!"