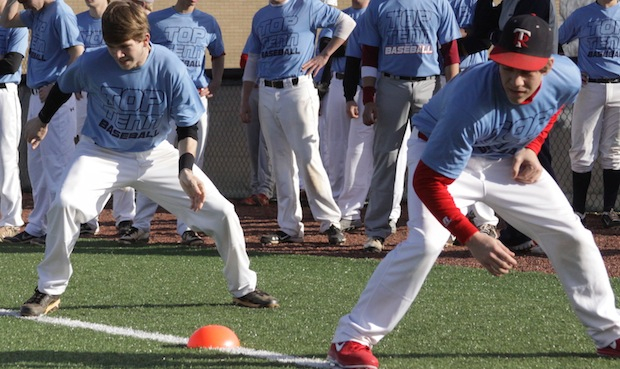 Baseball showcases and camps come in all shapes and sizes these days.  Over the past decade they have continued to pop up all over the country.  From local showcases to national showcases, and small camps focused on teaching the fundamentals to large camps focused solely on pitching, baseball showcases and camps have become events in themselves and leave parents and players wondering which are the best to attend.  After all, you need to attend these events in order to "be seen," right?  Let's take a look.
Showcases versus Camps
First and foremost, let's break down the difference between baseball showcases and camps.  I know we are probably walking a fine line here, but for all practical purposes:
Showcases are hosted by private companies that run the event more like a combine where players have the opportunity to "showcase" their talent and be evaluated by coaches and scouts.
Camps are most often hosted by colleges and marketed as a chance for players to receive instruction and teaching that will help them improve their game.  I use the word marketed here on purpose, as these camps can often serve a dual purpose by allowing college coaches to get a better look at a player they may have interest in.
If your main goal in attending one of these baseball events is to receive quality instruction to improve your game, then a local or regional baseball camp may be a fun opportunity for you to experience a college atmosphere, learn from some top coaches, and create a memorable baseball experience.
However, if you view showcases and camps as potential recruiting opportunities, then you need to adjust your thinking.  Realize that players (parents really) are the ones who pay the money to attend these recruiting events.  In some instances, these events can run greater than $800 – not counting travel, food, and lodging for the player.  Will this investment of time and money pay off by resulting in a college baseball scholarship, or in some cases, a top round draft pick?  A definitive yes or no cannot be made here.  Much like many other loaded questions, the answer is, it depends.
There Are No Guarantees
Please understand this one giant premise: there are no guarantees that a player will be recruited or drafted because he attended a camp or showcase.  If that were the case, why are we playing so many high school games and travel ball tournaments?  Couldn't a player just attend a showcase, talk to a coach or scout, and sign on the dotted line?
Players and parents just need to be smart in choosing which camp or showcase to attend.  Here are some thoughts to consider:
Is the event being hosted during the off-season?  If so, is your body prepared to handle the demands of the game?  Eric Cressey would argue that camps and showcases held in the fall and winter months can only cause more harm than good.  A better idea would be to consider something held near the end of the high school season or mid-summer when baseball is still in full swing and the player's body should be prepared for the demands of the game.
Will college coaches (or professional scouts) be in attendance?  Furthermore, will coaches or scouts that are actually interested in you be in attendance?  Very seldom is a player "discovered" at a recruiting event.  Coaches and scouts already know the names of the top players and may be using the event as an opportunity to gauge a player's ability against other top talent.  Or, they want official data on a given player – 60-yard dash time, velocity measurement, etc. – that they typically cannot record otherwise.
Some showcases are "Invite Only."  Typically, invite only events are better than paid options because not just anyone can attend.  This ensures higher quality players will attend, so colleges and scouts are more likely to attend as well.
College camps are little better bang for your buck.  However, a player should not plan on leaving a college camp with a scholarship offer.  College coaches use their fall baseball camps more for revenue generation than recruiting.  On occasion, college baseball camps can give a coach a chance to better evaluate a player.  But, if the player's main goal is to receive more exposure, he should make sure to attend a camp at a college where the coach has previously shown some interest.
From a recruiting standpoint, it is more important for a high school junior or senior to consider one of these events.  Freshmen and sophomores can rule out most showcases as being beneficial, but can still consider attending a camp to work on their fundamentals and receive quality coaching instruction.
When it comes time, every player will have to weigh his own options to decide whether or not a showcase or camp is worth his time and money. The player and his parents need to be honest with themselves regarding the athlete's ability level too. In a day and age where everyone believes their son is the next 1st Round Draft Pick, just being able to understand your own goals, talent, and ability level can help you decide if these events are worth attending.
Have you attended any camps or showcases recently? What was your experience with these events? Feel free to share with our community in the comments below so we can all continue to learn from each other.
Make it a great day!
Looking for a Baseball Strength Training Program?
Receive a FREE training program and template for one month of off-season training. Just enter your name & email & click "Get It Now!"