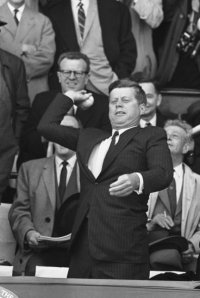 As any baseball player or fan knows, the ceremonial first pitch is a long-standing tradition that marks the beginning of the game.  I want to mark the beginning of The Full Windup in a similar fashion, thereby giving the first post its appropriate title.  It's always tough to write your first post when starting a new blog or website, so I thought I would make this as simple and easy as possible by describing exactly what you can plan on finding throughout this blog/website.  I want this site to be a resource for the little leaguer who is working on his pitching mechanics, the high school ballplayer trying to improve his strength and power, or the college athlete looking to expand his knowledge of the game.  So in the end, The Full Windup is for baseball players of any age looking to improve their baseball ability.  Bottom line.
So let's get a little more specific.  There are three types of posts that will make up a majority of this site's content.  First, the fundamentals of the game will be discussed in an effort to teach the basics of the game.  From hitting and pitching mechanics to pick-offs and first and third plays, if it happens on the field, it will at some point be discussed here.  You should expect it to be discussed here.
The second kind of post you can expect to see will relate to strength and conditioning for the baseball athlete.  Posts in this arena will be dedicated to exercises, drills, and conditioning aspects that can help a ballplayer increase his strength, speed, agility, and power.  Want to throw harder, hit the ball farther, and run faster?  These are the posts you'll be reading.
Lastly, we come to the mental game.  That's right: mental.  We all know that baseball games can move along slowly.  This allows for constant breakdown and analysis of every inch of the game.  There is so much going on that cannot be witnessed by the human eye:  a hitter's approach in a 2-2 count, the pitcher's mindset with a runner on 3rd with less than two outs, or how an infielder should react after making a critical error.  This is where the great players move away from the pack and really begin to learn the game.
So, there you have it.  The first pitch has been thrown.  I can only hope the topics that are discussed here will be clear and informative enough to make a difference in your game.
Now, let's hear the national anthem, take the field, and finally…PLAY BALL!
Looking for a Baseball Strength Training Program?
Receive a FREE training program and template for one month of off-season training. Just enter your name & email & click "Get It Now!"